Discover more from EVERYDAY DRINKING
A wide world of wine, spirits, travel, and culture from the author of Godforsaken Grapes and Boozehound.
Is Armagnac The New Bourbon? Or Is It The New Mezcal?
An exercise in reading beyond the headline. Plus, my picks and tasting notes on 16 bottles for your holiday splurge.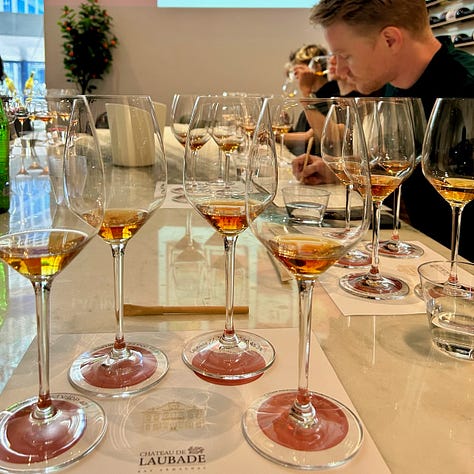 People often ask me, "What's the difference between Cognac and Armagnac?" (Yes, I exist in incredibly nerdy spaces). To be honest, there as many similarities as differences. They're both brandies made from grapes, often the same grapes. They're both made in southwest France, less than three hours drive from one another. At the top end, they're both expensive. But there are key differences, both technical and cultural. Below, I've posted my Armagnac 101.
More than anything, Cognac is bigger than Armagnac. Much bigger. Cognac represents a $4 billion market global market, with 225 million bottles sold each year. Meanwhile, Armagnac sells around 5 million bottles in a year. That means you don't have huge multinational players like Hennessy or Rémy Martin in Armagnac. Instead, it's mostly smaller family estates. Most don't even own stills, but rely on itinerant distillers going from house to house after harvest and fermentation. There simply isn't as much Armagnac in the world.
That scarcity and local grassroots production is why people often make this analogy: Armagnac is to Cognac what mezcal is to tequila. In the craft spirits world—where mezcal has cool, trendy, insider buzz—that's not a bad place for Armagnac to be.
That seems to be what some in the industry are banking on. For instance, in late 2021, the venerable brand Marquis de Montesquiou, one of Armagnac's largest producers, was bought from Pernot Ricard by Alexander Stein, the entrepreneur who created Monkey 47 Gin—which Stein had previously sold to Pernod Ricard. "He thinks Armagnac is the new mezcal," said Jean-Francois Bonnete, the president of BCI, which imports Marquis de Montesquiou. It will be interesting to see how the brand, which has slipped in quality, will evolve under Stein.
Meanwhile, Stein isn't the only industry bigwig who's invested in the region. And a some of the other players don't see Armagnac as the new mezcal. Rather, they're banking on it being the new bourbon.
A few years ago, Raj Bhakta, one of the founders of Whistle Pig whiskey, bought the entire stock of a traditional Armagnac house, Ryst Dupeyron. In 2021, Bhakta told me that he'd "transferred the majority of it to Vermont," where it would be finished in Islay whisky barrels. He released the blends a barrel at a time. "Technically it is Armagnac, but I'm not calling it Armagnac," Bhakta told me at the time. Still, all of his promotional material clearly mentions Armagnac as the spirit's place of origin.
Bkakta is clearly trying to appeal to a certain kind of American whiskey drinker, to blow them away with a 50-year age statement on the label. "The American whiskey drinking is dying for something new. He just doesn't know it yet," he told me in 2021. But Bkakta made clear he has little intention of educating his bourbon bros on Armagnac when he declared: "Armagnac just doesn't have much brand value." I mean, that's some serious hubris there. But I guess it's no less arrogrant than taking something a family aged for five decades in the French countryside and sticking in a Islay whiskey barrel for a few months to, ahem, "finish" it.
I've written before about this whiskey-fication of Armagnac. I'm very clearly on the record as saying this is not a good thing.
Nicolas Palazzi of PM Spirits, which imports a number of top Armagnacs, summed up the current market like this:
"There's more Armagnac being sold, but it's a very specific kind of Armagnac sold to a specific kind of buyer. We're talking about Armagnac that's very extracted, heavier on the wood, more powerful, more vanilla. So it's not very different than the whiskey that people are drinking. We're selling a lot less classical Armagnac."
In other words: Armagnac that tastes like bourbon. Still the big question for Armagnac in the U.S. is whether or not whiskey drinkers—tired of ridiculous bourbon prices—will embrace brandies they likely can't pronounce.
When I think and talk about Armagnac, I am a million miles away from the whiskey market. Gascony is a rustic, agricultural place of small towns that's famous (or infamous) for the ducks and geese raised for foie gras (more than once been I've been served a "salad" in Gascony that was literally all meat). I posted recently about my pilgrimage to some revered small estates. Armagnac is a fragile place, and there is legitimate worry about whether it can handle becoming the new bourbon or the new mezcal.
We love the allure of drinking from decades-old barrels that a négociant—a treasure hunter—has discovered and procured from an elderly grower, or a widow. But those barrels often represent the end of a multi-generational wine-growing family. The numbers don't lie: In 50 years, the total vineyard area of Armagnac has shrunk from 10,000 to 2,000 hectares. "This tradition is dying," says Lili de Montal, at Château Arton, with around 40 hectares in Haut-Armagnac. "It's not an overstatement to say it's a disaster."
A few weeks ago, I went to a tasting of Château de Laubade in New York, hosted by Denis Lesgourgues, whose family has run the estate for three generations. It was a small group, mostly people from the trade, and I thought Lesgourgues' presentation was a good model for how Armagnac might move forward into an uncharted market.
Among the samples, we tasted an experimental bottling made from the rare plant de graisse grape, as well as Laubade's new 21-year-old expression. That age statement is itself not common. "You don't see a lot of age statements in Armagnac," Lesgourgues said, adding: "We've been thinking about whiskey drinkers. The price of 21-year-old whiskey is very high. So we feel this is a chance for whiskey drinkers to try a 21-year-old Armagnac."
I've known Lesgourgues for about a decade, and back in 2021, he and I had a disagreement over a Armagnac he released that was finished in Bardstown bourbon barrels. His new 21-year-old feels like a much better approach to meet the whiskey drinker with an Armagnac that's still got the classic profile. (I recommend it below in my bottle picks).
After the tasting, everyone in attendance split into groups and we blended our own Armagnac from the 2008 vintage from aged samples of four specific grapes: ugni blanc, baco, colombard, and plant de graisse. Besides being fun (my team of course made the best blend; I got an embossed certificate!) the exercise focused attention on the raw ingredients, the grapes and the wine. It drove home to the people in attendance just how different Armagnac is from nearly any other spirit.
---
Armagnac 101: A Quickie Refresher
Armagnac may be the most wine-like of spirits, in that both terroir and grape variety are important. A key difference between Armagnac and Cognac is how the wine is distilled. Almost all Armagnac is single distilled in column stills that run continuously at low temperatures. In Cognac, on the other hand, double distillation in pot stills is the norm.
The appellation is split into three sub-regions: Bas-Armagnac, Ténarèze, and Haut-Armagnac. Bas-Armagnac, whose capital is Eauze, accounts for more than half of the vineyard land, much of it planted in sandy, silty soils. A group of villages including Labastide d'Armagnac, Arthez d'Armagnac, Le Frêche and several others, with their iron-rich sables fauves soils, are the prime area once called "Grand Bas-Armagnac" or the "Golden Triangle," which many believe produces the finest brandy in the entire appellation. Not everyone agrees with this traditional bias.
Ténarèze, whose central town is Condom (yup, you read that right) contributes 40 percent of the production, though is less known. With its pure, earthy, mineral-driven brandies coming from clay and limestone soils, Ténarèze is beloved by many contemporary enthusiasts. Lastly, there is Haut-Armagnac, which produces only three percent of Armagnac's total production.
Beyond terroir, grapes matter in Armagnac. Officially, ten grapes are allowed—but in practice only four are mostly used: ugni blanc, colombard, folle blanche and baco. In Cognac, those first three of these grapes are allowed, but most Cognac is made solely from ugni blanc. In Armagnac, the focus is more on blending several of the grapes.
A key difference between Cognac and Armagnac, however, is the use of the baco grape. A hybrid of folle blanche and the North American grape noah, baco was created in the late 19th century to withstand the phylloxera plague. For most of the 20th century, baco was the secret backbone upon which long-aged Armagnac stands. One importer called it "the American muscle car of grapes" that can handle decades of oak. Baco is particularly suited to Bas-Armagnac, and is somewhat less prevalent in the other two sub-regions.
In the 21st century, however, baco started facing a crisis. The European Union—which officially prohibits hybrid grapes in winemaking—wanted to ban baco and tried to do so in 2010. A heated legal battle took place, with Armagnac producers doggedly fighting for baco's legitimacy. Eventually, a group of influential French sommeliers lobbied on behalf of the grape, and the issue was resolved. Baco would be the only hybrid grape permitted in a European appellation.
One interesting by-product of the baco controversy is that a number of producers —worried that baco would be banned—experimented with other approved-but-forgotten grapes. One of these is plant de graisse, of which there is less than 20 hectares in the world. Château de Laubade planted a bunch of plant de graisse in 1997 and its L'Unique #3 bottling (listed below) is made from 100 percent plant de graisse.
Finally, Armagnac has traditionally focused more on vintages than Cognac (though this is changing, as I talked about the other day). But be careful about making assumptions about vintages. In Armagnac they're often long aged, but by regulations, vintages only have to be older than 10 years. The only way to know the age of a vintage is to know when it was bottled (generally, spirits stop evolving once they in bottle). As such, a 1972 Armagnac bottled in 1992 is a younger brandy than a 1980 Armagnac bottled in 2018.
---
Finally, On To My Bottle Picks!
A quick note on price and "value." Be warned: the spirits I'm recommending here are not cheap. I would categorize these as "holiday splurges"—perhaps a special gift for the spirits aficionado in your life. Still, all of the bottles I'm recommending offer the elusive concept of value. As I've said before, pricey spirits offer a much better value than pricey wines, based on the simple fact that a spirit can be opened and consumed slowly over a long period of time. A 750-milliliter bottle of spirit has 25 one-ounce pours within. You can do the math. A $200 bottle of spirits works out to $8 per ounce. Now think about how much a pour of middling spirits or cocktails at your local craft bar costs you.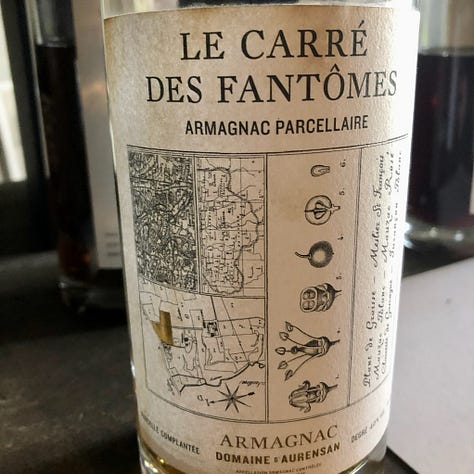 Six Unique Expressions
One-of-a-kind Armagnac made using a solera aging process—each year, about 10% is bottled from the cask, and fresh three-year-old brandy is added. The result is a distinctive dark amber spirit with nose full of both rum-like aromas and green notes of sage, tarragon, and tobacco. In the mouth, it's both unctuous and light on its feet, a delicious swirl of dried plum, pepper and spice, with a bright, energetic finish. Incredibly drinkable and among my favorites of the tasting. (43.2% abv.)
For years, this has been among my favorite younger expressions of Armagnac. From the supposedly "less prestigious" Haut-Armagnac, Arton's La Réserve is a unique contrast to Bas-Armagnac and Ténarèze. It's distilled from a blend of ugni blanc and colombard, and blended from brandies aged a minimum of 6 years old. Pretty, with aromas of fresh flowers and chamomile tea, and high-toned on the palate, with delicate pear and marmalade flavors. (45% abv.)
A special Armagnac made with six "ghost" grapes that have almost disappeared from the region: plant de graisse, meslier St. François, mauzac blanc, mauzac rosé, Jurançon blanc and clairette de Gascogne. Light golden, with a bright, fruity nose, along with interesting notes that are almost pisco- or grappa-like, and soft honeyed quality on the palate. If you're a collector of rare spirits experiences, this is one to pick up. (52% abv.)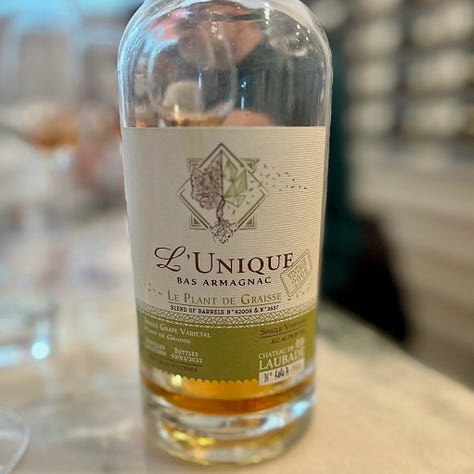 As the label literally says, this is a unique brandy, made from plant de graisse—less than 20 hectares of this rare grape is planted worldwide. This 16-year-old is light amber in color with a fresh, pretty nose of fresh-cut flowers, herbs, and spice. On the palate it's very dry, with white pepper and green tobacco, and even a hint of early rancio. Straight and austere, but really drinkable. (46.3% abv.)
Happy that we're seeing more this Ténarèze producer in the U.S. This cask-strengh XO has a classic, timeless profile. Aromas of pastry, almonde paste, and baking spice, great viscious texture in the mouth, spicy and peppery at the edges, and a seamless, mineral finish. Good-value introduction to Ténarèze terroir. (53.2%). For more info, contact importer Heavenly Spirits.
Classic but with a modern approach—one of a handful of Armagnacs using an age statement on the label. Amber in color, full-bodied and rich, with aromas of pastry, chocolate, walnut, and an intriguing touch of rancio. Great texture and balance and good value. (45.3%)
---
Six Vintage Picks
A 36-year-old powerhouse with heady aromas of fruit pastry, beeswax, forest floor, leather, and profound rancio. On the palate, candied citrus, fig, and espresso. Rich, ripe, nutty, and smokey with layers upon layers of complexity and long finish. A good price for such an Armagnac with this kind of age. (56.6% abv.)
This 31-year-old, nut brown in color, is a case study in rancio, with big aromas of cigar box and antique furniture varnish. On the palate, it's all about hairy-chested notes of leather, tobacco, old library, cigar, maple, balanced by chewy dried fruit (plum, date, and raisin), a lingering umami vibe, and a long smokey finish. This one is so complex and crazy good, and more than justifies its plus-$200 price tag.
Note: L'Encantada has many different expressions on the market. To taste more of them, one option is to buy their "discovery box" (if you can find it) with several different 200 milliliter mini-bottles of their top expressions. At $250, it's a great gift for the spirits nerd in your life.
A deep, dark 32-year-old single cask that's off the beaten path and bound to scramble the Armagnac/bourbon bro's brain. That's partly because its cask strengh is just over 40%, but also because of the taste. Dark walnut in color, with a nose of burnt sugar at first, but then something fresh and minty, evergreen forest and Christmas cookies. In the mouth, there's rich flavors of molasses, dark chocolate, and nutty rancio, but it retains this core of freshness on the long finish. (40.7%) You can also check here for availability.
Proof that great Armagnac does not have to be aged two-plus decades. This 13-year-old is seamlessly balanced and fresh. Aromas of almond, fig and pepper and a supple texture on the palate with candied citrus, ginger, dates, and a long, elegant, mineral finish.
Domaine d'Esperance 2001 Folle Blanche #75, $200
Folle blanche makes beautiful Armagnac that often can be enjoyed at a younger age. This 21-year-old is so pretty, with a nose full of flowers, herbs, and tobacco, and a palate with layers of maple, baking spice, tobacco, and clay, and a finish of elegant cigar smoke. It's all balanced by a delicate brightness. (52% abv.) Brand new in the U.S., so check with importer PM Spirits for more info on where to find it.
An example of the kind of Armagnac that appeals to bourbon fans that are beginning their journey into brandy. Unsurprisingly, this is incredibly "bourbon-like." I enjoy this one, and I respect it as a style, but I hope that this is not the predominant direction Armagnac takes in years to come. (46.8% abv.)
---
Four Classic Blends Under $150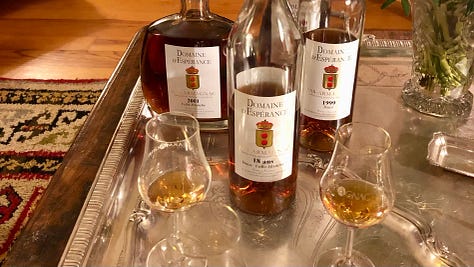 Fourth edition of this collaboration between L'Encantada and importer PM Spirits (3,000 bottles produced) and it is the finest version to date. I recommended this last year, but since there has not yet been a fifth edition released, and I'm still seeing bottles sold at retail for great prices, I'm recommending it again. Blended from eight single casks dating from 1986 to 2006 from small estates that L'Encantada sources from. Pretty nose, with aromas of iris, pear blossom, and pastry dough, turns spicy in the mouth, with flashes of cardamom, cinnamon, and peppercorn, balanced by creamy chocolate and mellow gingerbread, and a seamless glide into a long finish. Amazing value. (48.3% abv.) Some bottles of earlier editions are still floating around as well.
Château de Lacquy used to label this as XO, but now uses an age statement. A mature, hard-to-find, 17-year-old that whispers instead of shouts. Gentle but precise throughout, with flavors of candied orange, prune, and chocolate at first, then finishing with tobacco and a hint of rancio normally found in longer-aged Armagnac. Excellent value here. (43.5% abv)
One of the Bas-Armagnac's classic blends, aged a minimum of 25 years. It's always been one of my favorites, and it remains an excellent value. Complex, swirling aromas of winter spices, pine forest, fruit pastry, and leather. Subtle at first on the palate, maple and dried apricot, but then introduces darker notes of pepper and grilled walnut at the midpalate and then an extraordinary finish full of licorice and tobacco. (40% abv)
I've liked this expression for a number of years and was happy to see it finally available in the U.S. late last year. It's still a go-to pick for me. Bright nose of dried cherry and pastry, and layers of pepper and spice on the palate: nutmeg, Sichaun peppercorn, green tobacco. Mellow, but packs a sneaky punch, and has a crazy long finish. Pour this for a rye whiskey fan and watch them convert to Armagnac before your eyes. (48% abv.)
---
Related Armagnac Content