Discover more from EVERYDAY DRINKING
A wide world of wine, spirits, travel, and culture from the author of Godforsaken Grapes and Boozehound.
This Is Barrel Hunting Season
If you've been interested in seeing what high-end brandy is all about, it's time for a holiday splurge.
This week, I published a feature on Cognac barrel-hunting in Wine Enthusiast. I'm really proud of this piece, and I hope you'll take a moment to click and read it. I figured it was also a good moment to post my annual buying guide to Cognac, which is below. I will follow with a report on Armagnac on Friday, and another on Calvados and other brandies in the coming weeks. (Paid subscribers can also check out my Cognac travel guide).
In my Wine Enthusiast piece, I talk about the exciting trend of single-cask Cognac. I believe that releasing great single barrels will be the thing that finally puts Cognac in the same space as bourbon and Scotch for serious spirits aficionados. From the piece:
Historically, the region is a merchant business, and about 75 percent of stocks are owned by négociants, who buy from smaller producers. Traditionally, those stocks went into various blends, the classic alphabet soup of Cognac classifications: VS, VSOP, XO, Extra, Réserve, Hors d'Age, Napoleon.

But the new wave of merchants is doing something quite distinct. "The maker is not the only one with know-how. There is also the guy who can find the good barrels," said Alexandre Vingtier, respected French spirits critic. Négociants like Grosperrin and Vallein-Tercinier, and importers such as PM Spirits are now focused on single barrels. Even acclaimed small producers like Jean-Luc Pasquet will do special bottlings (via its Trésors de Famille line) of barrels they select from other cellars.

"The rules and classifications were made for people who sell in bulk," said Amy Pasquet, of Jean-Luc Pasquet. Treasured family barrels end up going into mass market products from Hennessy or Rémy Martin. "Those blends are what people locally call a 'fosse commune,' a pauper's grave," Pasquet said. "We want a bottling that doesn't erase the character of that single cask."
The idea of scouring dusty cellars goes against the nonstop luxury marketing of the Big Four (Hennessy, Martell, Rémy Martin and Courvoisier) that controls nearly 90 percent of the Cognac consumed worldwide. But there's a grittier agricultural reality of the region that's often ignored. Cognac is made up of 4,300 winegrowers, most of whom grow less than 20 hectares.
My Wine Enthusiast feature is also part travel narrative. I got to visit some of the small cellars where the special barrels are found. I describe my visit with Guilhem Grosperrin to visit a septuagenarian named Marcel, who was still dressed from his boar hunt earlier in the day (just Marcel, no last name; Cognac is very secretive).
When we arrived, Marcel eyed me suspiciously, asked, "Well, does he like to drink?" Grosperrin chuckled and told Marcel that, yes, I liked to drink very much. With the ice broken, we stepped into his dark, musty cellar to taste stuff that had been aging since the 1980s.
During his career, Marcel sold most of his stock to one Big Four house or another. But he always saved a few special barrels for himself. "What they keep is for pleasure, or patrimony, or as souvenirs, or for reasons that are not necessarily logical," Grosperrin told me.

By age eight, Marcel was able to light the still, which he did in the morning while his father tended to the cows. Marcel remembers a wealthy neighbor who'd been a prisoner of war in Germany during World War II. That man wrote to his family from prison: "Cut down all the trees if you have to, but don't stop distilling. Distill, distill, distill." After the war, this guy's cellar was full, and he became rich. Meanwhile, Marcel's family had to rebuild its stocks. "The value of money is just in your head," he said. "But the value of Cognac is solid, and you don't lose it."

Marcel opened a barrel of a 2000 vintage from Grande Champagne. As he poured it into our glasses, he said with a laugh, "Rémy Martin told me, no thank you. They said this barrel wasn't good enough." We sipped the liquid, and the three of us fell silent. This was an unbelievably complex and delicious Cognac with layers upon layers of flavors and aromas. Grosperrin closed his eyes. Finally, Marcel broke the silence by saying, "Ooh la la!"
I'll be grateful if you give the piece a read.
---
A Quickie Refresher on Cognac
Before your eyes glaze over, I want to quickly run through a few Cognac terms you'll see on the label. The first is the alphabet soup of Cognac blends: VS, VSOP, and XO, as well as several other nebulous designations. In VS (Very Special), the youngest eau-de-vie in the blend must be two years old. In VSOP (Very Superior Old Pale), the youngest eau-de-vie in the blend must be four years old. There aren't many VSOP and below brandies I would recommend. So with blends, I will mostly be dealing with XO (Extra Old). As of 2018, the youngest eau-de-vie in an XO blend must be 10 years old.
But from there, it gets even more maddening with terms of art such as Réserve, Hors d'Age, Très Vieille, Napoléon, Extra, and Extra Extra Old. I wrote about Cognac's complicated classifications back in 2021 (you can find that here). It's no wonder that a number of smaller new-wave producers are moving away from this confusing system.
The next set of label terms is slightly less confusing, and deals with geography and terroir. Coganc has six districts or cru, where the vineyards of the base wine are situated: Grande Champagne, Petite Champagne, Borderies, Fins Bois, Bon Bois, and Bois Ordinaires. Grand Champagne has historically been considered Cognac's grand cru, though modern enthusiasts are just as often intrigued by Borderies (smaller and rarer) and certain terroirs within Fins Bois and Petite Champagne. (By the way, "Champagne" has nothing to do with the sparkling wine region except for that the two places share a chalky soil.)
Oh yeah, one more thing. We use the term rancio when talking about certain characteristics of old brandies—usually ones that have three decades or more of aging. Rancio is elusive to define and it presents in slightly different ways: sometimes like bitter walnut or soy sauce, sometimes like antique furniture varnish or even ripe tropical fruit. Rancio is a kind of "you know it when you taste it" sort of thing.
Got all that? LOL. As I keep saying: Cognac is complicated! This might be a lot to throw at you on a random Wednesday, so let me jump into my bottle picks.
A Word On Price and The Slippery Word "Value"
Be warned: the spirits I'm recommending in this post are not cheap. I would categorize these as "holiday splurges"—perhaps a special gift for the spirits aficionado in your life.
Still, in my opinion, all of the bottles I'm recommending offer the elusive concept of value. As I've said before, expensive spirits offer a much greater value than pricey wines based on the simple fact that a spirit can be opened and consumed slowly over a long period of time. A 750-milliliter bottle of spirit has 25 one-ounce pours within. You can do the math. A $200 bottle of spirits works out to $8 per ounce. Now think about how much a pour of middling spirits at your local craft bar costs you.
In my Wine Enthusiast article, I encourage spirits lovers to skip the Big Four Cognac brands (Hennessy, Martell, Rémy Martin and Courvoisier). The reason I do this is not simply because I am some kind of contrarian or punk. By looking outside the Big Four, you're often getting better quality brandy at a comparatively lower prices. As you look at the prices of my annual bottles picks—keep in mind that the average price Hennessy XO the U.S. (according to Wine Searcher) is $241. Even Hennessy's much younger VSOP is averaging almost $70 per bottle. What's on my list is just comparatively better.
I've broken down my list as follows: Super Special Singles; Favorites Under $100; Classic Blends For Excellent Value. Click on the links to buy.
---
Super Special Singles
Guilhem Grosperrin is the lead subject of my Wine Enthusiast barrel hunting piece. Each Grosperrin bottling is unique, with a short essay on the label giving a brief history of the family, the place, and an explanation of each this batch. I've had a chance to taste with Guilhem (as well as his sister Axelle) on several occasions at their cellar in Saintes, France. I'm still thinking about the 1914 Grande Champagne that we tried from the barrel on my last visit.
Right now, it's hit or miss which Grosperrin bottlings you can find in the U.S., but some retailers like Best Buy Liquors in Brooklyn, Wine Library in New Jersey, and K&L Wine Merchants in California stock various bottles. Some, like the Grosperrin 1968 Fins Bois can be crazy expensive (over $700). But other vintages from the late 1980s and 1990s can be more affordable—such as this Grosperrin 1990 Fins Bois for $170 or this Grosperrin 1989 Petite Champagne for $200.
Another option is check out Cognac Expert, which is based in Cognac but somehow can ship directly to the U.S. (don't ask me how this is possible). They run slightly more expensive on bottles, but their selection is quite large. The Grosperrin N°90 Bois Ordinaire de l'Ile d'Oléron, a very unique Cognac from the island of Oléron, that I really like, is reasonably priced at $158.
If you really want to splurge, they also have the stunning Grosperrin N°64 Borderies, which has nearly 60 years of age, for $384. Pricey, but it's also honestly one of the great Cognacs of all time—and still a fraction of something like Rémy Martin Louis XIII or Hennessy Paradis Imperial (both more than $3,000).
Recently, the Washington, DC-based importer Mufson, Faron & Brand has started importing a small number of Grosperrin expressions, which is exciting news. Right now, they're offering Grosperrin Fins Bois "Très Vieux" for $188, which is honestly a solid deal for a single-barrel brandy that's well over 50 years old (the exact distilling date is not known, that's why it must be called très vieux). I tasted this one with Guilhem in France, and it's muscular, rich, fruity, full of great rancio. It's a good introduction to single-cask Cognac.
Very excited about this one. Jean Fillioux estate is known for some of Grande Champagne's legendary blends, but single cask offerings have been rare. Until now. There's only 504 bottles available of this elegant 26-year-old single cask. Beautiful nose of candied citrus, dried flowers, beeswax, and almond pastry, with a complex swirl of flavors on the palate: dried apricot, prune, licorice, honey, and a long finish of pepper and tobacco. This is an absolute steal for this quality at this price. (43.3% abv.) It's new to the market, and right now I can only find it online here. But I'm guessing you'll see it more in the weeks and months to come. For more info, contact importer Heavenly Spirits.
Jean-Luc Pasquet
Jean and Amy Pasquet are also subjects of my Wine Enthusiast piece, and I've visited with them numerous times over the years. While the Pasquets are producing their own Cognacs from their organic estate in Grande Champagne (see their good-value 10-year-old below) they are also négociants, and release their selections under the Trésors de Famille label. Before that, this label was called L'Esprit de Famille (which you still may see in the market). Pasquet also has single-barrel expressions selected by Grape of the Art in Germany.
This "lot 95" (1995 vintage, but it can't be declared officially) would be a good lower-cost introduction to the pleasures of single-barrel Cognac. Young and rambunctious, with tropical fruit, plum, spices, cinnamon pastry, honey, and herbal tea. (53.5% abv.)
Only 30 bottles of this Pasquet single cask (selected by Germany-based Grape of the Art) have been allocated to the U.S. This 41-year-old was made in 1979, but it must be called "Lot 79" to comply with Cognac's strict vintage rules. Full of orchard and tropical fruit with a dense body and unctuous texture. (52.3% abv.)
I love this particular single cask, made by a fellow named Paul in 1957. Complex blend of beeswax, warm citrus, and deep notes of tropical fruit. In the mouth, there's everything: dried fruit, candied fruit, spices, pastry, tobacco, licorice, exotic wood, and layers of complex rancio. It ain't cheap, but it's very special. (42.3%)
Gorgeous 40-year-old Fins Bois full of rancio, with notes of cigar box, antique furniture varnish, sweet spices, balanced by comforting warm citrus and dried fruit, and a super long finish. (44.8% abv.)
Not a single cask, but this vintage 10-year-old Cognac comes from a single estate in the coveted Grande Champagne terroir of Bonneuil. Deep golden, there's a fresh flower basket on the nose, along with notes of sunny citrus and plum. In the mouth, it's full of swirling spices, a pinch of tobacco, balanced by prune and cocoa, and a long, dynamic finish. (42.8% abv.)
Key Your Eye Out For This New Top-End Release
Frapin 1994 Single Cask, $260
Frapin is a legendary Grande Champagne producer who has held to tradition and prefers blends over single cask. But that's finally changing with this 27-year-old. Intensely perfumed, with Christmas aromas and sweet smoke. Warm and fruity at first, with candied citrus and ginger, but then comes the muscle at mid-palate, with a big, long finish of tobacco and spice. This is a cigar lover's Cognac. (47.3%) Should be in the market by early 2024. Contact importer PM Spirits for info on where to buy.
---
Favorites Under $100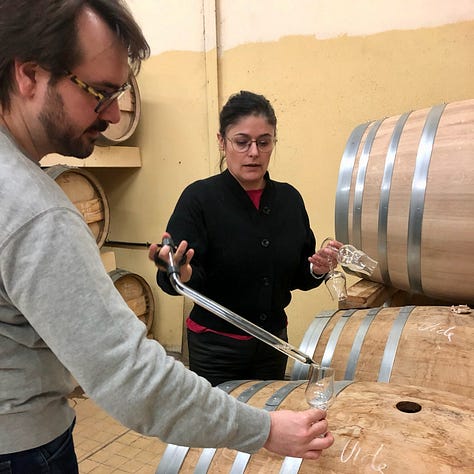 One of the most exciting VSOPs I've tasted in recent years. Fins Bois is known for youthful, fruity Cognac, and Remi Landier one of Fins Bois' best producers—but even by those standards, this one is special. Aged five years in older French oak and finished for six months in new oak. Golden in color, with a complex nose of marzipan, cherry pastry, and honeysuckle, and plenty of lively fruit on the palate with flavors of spiced pear, tarte tatin, and a peppery finish of pepper. Super drinkable and tasty, it clearly shows that age isn't everything. (45% abv.)
From Borderies, aged 12 years. Delicate and precise, with a pretty floral nose, notes of tangerine and ruby red grapefruit, along with an underlying minerality and a long stony finish. Wonderfully balanced with amazing texture. (40% abv.)
Rather than the traditional XO, Pasquet puts age statements on the labels of its younger bottlings. This one is a minimum of 10 years old from, all from their organic estate in Grande Champagne. The intense nose is full of alluring jasmine, smoked herbs, toffee, with an underlying aroma of Earl Grey tea. Full of juicy citrus in the mouth, balanced with notes of ginger and green tobacco. Pretty and powerful. (40% abv.)
This is a new blend of Normandin-Mercier's 15-year-old, and the result is a lively, mineral-driven, golden brown Cognac. Aromas of maple syrup and dried flowers, and a dark mineral palate of tobacco, saline, pepper, and clay, balanced by candied citrus and ginger. (41.2% abv.)
Cognacs made with 100% of the folle blanche grape have been rare since phylloxera, though you're seeing more folle blanche bottlings in the last few years. Pasquet's 10-year-old folle blanche is pretty, floral and fruity. (49% abv.)
---
Classic Blends, Excellent Value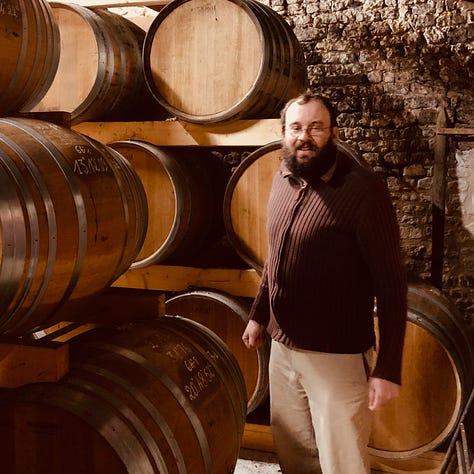 A great price on this classic, opulent older XO, 25 to 30 years old. Copper with orange tinge, the nose has aromas of nougat, butterscotch, warm pastry, and marmalade. On the palate, complex spicy, with a hint of rancio, roasted walnuts and exotic wood at mid-palate, and note of espresso on the finish. (40% abv)
One of my favorite XOs, aged for 20 years in Frapin's dry cellars, to highlight finesse and elegance. Made only from grapes harvested around Frapin's Fontpinot castle, in Segonzac, the heart of Grande Champagne. Copper-orange in color, bright nose of fresh flowers and mint, along with richer aromas of dried apricot, pastry dough and a hint of rancio. The freshness carries onto the palate, where there's great linear structure, nuttiness and attractive acidity, and the surprisingly intense grilled walnut finish. Lively, drinkable style of XO that offers excellent value. (41% abv)
A blend of 40- to 70-year-old brandies from Grande and Petite Champagne and Fins Bois. Light amber, with a big, complex nose, full of ripe tropical fruit, dried flowers, herbs and spices, and in the mouth salted plum, dried apricot, candied citrus, roasted nuts all framed by great structure and a long finish. Incredible value, as good as what some of the bigger brands are selling for well over $500.
One of the prized expressions in Grande Champagne, and often hard to find. I found this great deal currently at Astor Wines & Spirits (it normally goes for $235 to $250). Aged 35 to 50 years, yet light amber in color. The incredibly complex nose is at first warm and affable, with pretty dried flowers, rose petals, and roasted walnuts, but as you return to the glass, the aromas open up with a tropical explosion of pineapple, mango, and guava. It wows the palate with so much going on at once, both profound and hedonistic. Lots of fiery spice and pepper at first, which is then balanced and rounded by more opulent tropical fruit, and some forest floor notes, and a unique chalky finish. Consider how many thousands of dollars that the blingy bottlings from the big houses fetch, and you'll see what an incredible value this is. (45% abv.)
---
Related Cognac Content