Discover more from EVERYDAY DRINKING
A wide world of wine, spirits, travel, and culture from the author of Godforsaken Grapes and Boozehound.
Timorasso Is Where It All Starts
And other tales of obscure Piedmont whites, including erbaluce, nascetta, and cat balls.
On occasion, I'll admit to bias. For instance, there is no way I would not buy the bottle pictured above. Iuli Barat is made from a nearly-extinct Piemontese grape called baratuciat, which means "cat balls" in the local dialect (apparently because the grape is small and oval-shaped). Even in Piedmont, where plenty of obscure grapes thrive, baratuciat is rare. But I would not only buy this wine because I am a simp for nearly-extinct grapes. The black cat on this label (who also seems to be peeing) reminds me of my own black cat, Edgar, who is similarly a rascal—he's been known to knock a wine glass off a table when he wants attention. What can I say? Good wine labels sell wine!
Fortunately, in this case, Fabrizio Iuli's wine is also unique, intense, and lovely—giving serious Loire chenin blanc vibes. Summer Wolff, Fabrizio's wife, also makes an excellent baratuciat, Ette, which leans a bit more natty with more skin contact. Are there more baratuciat bottlings in existence? If there are, I do not know of them. But judging by recent trends of lesser-known grapes, we will likely see more.
In fact, I am somewhat surprised by how mainstream the indigenous grapes of Piedmont have become in American wine circles. Last week, I sang the praises of grignolino and freisa.
But those are just the latest grapes to gain traction. You can find obscure Piemontese whites everywhere. Arneis has been a wine-list staple for more than a decade. Erbaluce is not far behind, and was just named "grape of the year" at Vinitaly. Even nascetta is no stranger to big-city wine bars.
But, for me, timorasso will always be the most important. My journey into the world of "godforsaken grapes" truly begins with timorasso.
This timorraso epiphany took place a few hundred kilmeters from Piedmont. In 2010, I had just written a book about spirits, Boozehound, and I was restless to move on to a new topic. I was in the Veneto on my first wine assignment, an article on prosecco, which had recently gained protected DOC status. (Shout out to Jon Bonné for the assignment). While I was there, an Icelandic volcano called Eyjafjallajökull erupted and shut down all European air travel, grounding me and millions of others. Being stranded in Italy for those days caused me something of a ridiculous existential dilemma. As I wrote in Godforsaken Grapes:
At a certain point, I felt like the overprivileged son of a deposed dictator, one who lives in the lap of luxury, and yet will never go back to his homeland. The night before my flight was canceled, I'd had dinner in the beautiful hill town of Asolo. A famous exile, Caterina Cornaro, the queen of Cyprus from 1474 to 1489, was sent to Asolo after she may or may not have poisoned her husband. She lost Cyprus and was named Lady of tiny, fairy-tale Asolo to "rule" as consolation. During Cornaro's exile, the Italian verb asolare—meaning to pass time in a delightful but meaningless way—came into usage. Perhaps that's how I can sum up my brief stranding in Italy. I visited some more wineries. Made some more friends. Sono asolato.

I often fear that this sense of asolare permeates my life. Chuck Klosterman, in his book Sex, Drugs, and Cocoa Puffs, delineated "no-nonsense guys" and "all- nonsense guys," identifying with the latter. After years on the wine-and-spirits beat, it's not always easy to make the case that I'm not an "all-nonsense guy." But I know I'm not the only one who believes that wine and food can offer profound experiences. Like Caterina Cornaro holding court in her make-believe domain, perhaps we're kidding ourselves that Umbrian truffles make a better pasta dish than Burgundian ones, or that one should waste money on truffles at all. Maybe it's delusional to see politics in the shape of a Toblerone chocolate. Perhaps it's an indulgence of the mind to think that DOCG prosecco is much better than non-DOCG prosecco. But these are weak moments of doubt. As old Kant told us: "Happiness is not an ideal of reason, but of imagination."
One night during the volcano shutdown, I went to dinner at a restaurant called Dolada, in the foothills of the Alps overlooking the serene Santa Croce lake. I was with husband-and-wife prosecco makers, Cinzia Canzian of Le Vigne di Alice and Umberto Cosmo of Bellenda.
Cinzia and Umberto debated what was more "serious," red wine or white wine. "All of the wines I would call 'unforgettable' are white wines," said Cinzia. "Certainly I drink a lot of wonderful red wines. But for me, white wines are much more often surprising and memorable."

Umberto protested, but Cinzia's argument was tough to refute since the white wine we were drinking at that moment, the one Umberto had ordered, was totally unforgettable: Vignetti Massa Timorasso Derthona. This was a strange, complex, full-bodied white, one that felt like everything, all at once, honey, ripe fruit, freshness, minerality, a unique nuttiness, and a little funk. After phylloxera, timorasso had dwindled to less than a 20 acres around the town of Tortona, in the Piemontese province of Alessandria. But in the early 1990s, winemaker in Tortona named Walter Massa nurtured the grape back into existence.
We paired that timorasso with a "de-constructed" spaghetti all carbonara that is still the greatest rendition I've ever eaten. "I can pinpoint that day as my awakening," I wrote. "This was the moment I began my journey into the world of obscure grapes."
In 2010, Walter Massa's timorasso was the only one you could possibly find in the U.S.—and even then it was incredibly rare. Fast forward 13 years, and it's surprising how much more widely available it is. You almost chart the influence of indigenous grapes on the wine industry by looking at the rise of timorasso. Even famous wine brands such as Vietti and La Spinetta have started growing the grape. If you see "Derthona" on the label, that's the Latin name for Tortona and it means that the grapes were grown in the Colli Tortonesi.
On my recent trip to Piedmont, at the classic osteria More e Macine in La Morra, I ordered Monlià timorasso for our large table—made up of an international cast of characters from Chile, South Africa, Germany, and Israel. Monlià is made by Isabella and Pietro Oddero, cousins of the one of the most important families in Barolo. Walter Massa consulted on the project. It made me so happy that this timorasso was an absolute crowd pleaser. It felt almost like the closing of circle for me.
But timorasso was far from the only amazing white I tasted during my travels in Piedmont. There was also all the arneis, erbaluce, and nascetta.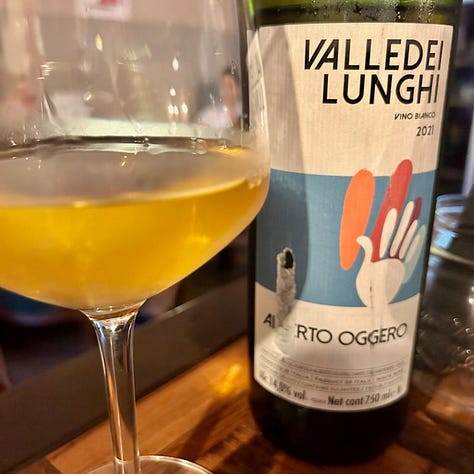 In Bra, I spent a fair amount of time at natural wine bar called Zero Enoteca Conviviale, where I found a few bottles I wish were available in the U.S. My favorite was a skin-contact blend of arneis and cortese, Cascina Roera Ciapin, that's almost rosé in color and gives both glou glou and structure—such a fun wine. I also loved the Alberto Oggero Valle dei Lunghi, which is 100 percent arneis hand-picked from old vineyards in Roero, scattered amid the nebbiolo grapes. Intense and complex, this is very different than much of the middling arneis that has taken over the market. Finally, the Poderi Cellario SÉ, made from nascetta, was a winner. I'm a big fan of mineral-driven nascetta, especially its smoky tinge, and I can see this grape becoming more popular in years to come. I've seen all three of these producers in the U.S. but not these specific wines. If anyone has more info, please leave it in the comments.
Finally, I had a chance to reacquaint myself with erbaluce during a blind tasting in Bra put on by the Erbaluce di Caluso DOCG. I would place these wines, from northern Piedmont, in the category of "Alpine." I love their combination of freshness and complexity. There are only 242 hectares of Erbaluce di Caluso, so it's still relatively' "obscure" by any reasonable measure. I've included tasting notes on two of my favorites, from Ferrando, below.
When I taste erbaluce, I can't help but think about fresh herbs and grass. I wonder if this is because the word "erba" (which can be used to mean herb or grass) is part of the grape name. Is it the power of suggestion or am I really perceiving aromas and flavors of herbs and grass? Who cares? As Kant said: Happiness is not an ideal of reason, but of imagination.
---
What's 'Obscure' Mean Anyway? 8 Piedmont Whites
Timorasso
A full-bodied, luxurious, ageworthy timorasso with chenin-blanc-like character. Golden, waxy, aromas of honeysuckle and honeycomb, and complex, evolving flavors of ripe yellow apple, salted lemon, ginger, and even tropical fruit. I'd love to see what this tastes like in five years.
Massa's classic timorasso (from younger vines, aged in stainless steel) is a crowd pleaser and a good value. A nose full of white flowers and nutmeg, and vivid flavors of pineapple, ginger, and spice on the palate.
Crowd pleaser that's full and ripe, with tropical and citrus notes, and underlying nutty and honeyed notes, but balanced by fresh acidity and crisp finish.
Vietti is much better known for its Barolo and Langhe Nebbiolo, but this timorasso (which they just started producing in 2018) is a good intro to the grape. Super floral, with notes of pear, grapefuit, with an underlying salty, chalky minerality.
---
Erbaluce
Ferrando's "white label" erbaluce is surprisingly complex for the price. Aromas of fresh-cut flowers, white tea, nectarine (and, of course…grass and herbs) as well as a hint of fresh rainwater on stones. On the palate, it's bright, zesty, and citrus-kissed, with underlying smokiness. Amazing value.
The "green label" comes from Ferrando's best erbaluce vineyard. On the nose it's like a spring herb garden next to a meadow of wildflowers (of course). On the palate there's tension and thrilling acidity, and it builds to a long, mineral finish. Incredible, serious white wine.
---
Baratuciat
Is this "typical" baratuciat? Very hard to say. "This is an ancient grape, but there are no ancient bottles to study," says Fabrizio Iuli. Give it a try for yourself.
Or maybe this "typical" baratuciat? Who's to say. Aged in cement with nine days of skin contact, refreshing, complex, and full of texture.