Discover more from EVERYDAY DRINKING
A wide world of wine, spirits, travel, and culture from the author of Godforsaken Grapes and Boozehound.
Is Grignolino The New Nebbiolo?
And other fanciful thoughts during my travels among the obscure indigenous reds of Monferrato.
In my first post of 2023, I declared this to be the Year of Light Reds. I don't know if that's come to pass, but I've certainly been seeing a lot more lighter-bodied, chillable red wines on menus and in media. Hannah Staab's recent, excellent article "How U.S. Drinkers Learned to Love Chilled Red Wines" in VinePair is a good example of where we are on light reds as a wine culture. Given that at one time a light red was considered almost "un-American," I would say things are trending in the right direction.
In my second post of 2023, I expressed my love of one light red in particular: grignolino from Piedmont. (Say it with me: gree-nyoh-LEE-noh). Anyway, I called it a "wine meant to scramble the brain." How can something so light, so suggestively fruity and easy-drinking, with such electric acidity, also be so earthy, complex, and pack a tannic punch?
"For me, the tannin is the best in the world. It's fantastic. It's such a happy grape," says Fabrizio Iuli of Cascina Iuli, one of my favorite grignolino producers.
Anyway, I've been drinking a lot of grignolino this year, and so it's likely destiny that last week I ended up in the Monferrato hills, grignolino's spiritual home.
Monferrato, east of Turin and north of Asti, is quite different from other parts of Piedmont, such as Langhe or Roero, where the nebbiolo grape reigns supreme. Here, the land is more diverse, with vineyards sharing space with hazelnut orchards and forests. Alba may be famous for white truffles, but most of those come from Monferrato. Underneath the landscape sits the ancient "infernot" cellars, dug out of the local sandstone, Pietra da Cantoni, which is why the area has been a UNESCO World Heritage site since 2014.
As a place, I wouldn't say it's "undiscovered"—Cella Monte, for instance, has gained attention as one of "I Borghi più belli d'Italia," Italy's most beautiful villages. But Monferrato is still mostly off the tourist trail.
"It's still an authentic lifestyle here. You're still in Italy," says Summer Wolff, Iuli's wife, who makes Hootananny Wines under her own label.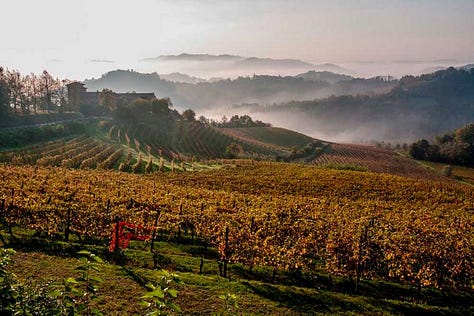 All of which is to say that Monferrato is a unique terroir, even in a country of unique terroirs. It's perhaps no surprise that a strange grape like grignolino thrives here. The official appellation is Grignolino del Monferrato Casalese, but some producers bottle outside the DOC.
"In all of the world, grignolino is only made in Monferrato and Asti," said Pietro Arditi of Cantine Valpane. "After the second World War, grignolino grapes were the same price as nebbiolo from Barolo. It was considered an important wine." Pietro can remember his Aunt Lydia (who ran the winery for much of the 20th century) opening grignolino for the important guests.
So why isn't grignolino as well known now as nebbiolo? "Like a lot of other Italian grape varieties, it was ruined in the 1980s, when quantity was much more important than quality," Arditi said.
One of grignolino's defining characteristics is its seeds—the grape's name actually comes from the Piemontese word grignole meaning "many seeds." It's also a relatively small grape, with a small amount juice. All of which means that the wine, despite its pale color, has a serious tannic backbone. That makes it tricky to grow. "If the seeds aren't ripe, you extract too much green," Arditi said. In the 1980s, winegrowers created clones that were bigger, and they began to pick too early, and so the tannins were too big. Grignolino's reputation suffered.
Over the past decade or so, quality grignolino has made a comeback, like so many other Italian indigenous varieties. Part of its appeal is how well it pairs with food. It's one of the easiest wines to match with pretty much the full range of Italian dishes. Creamy sauces, check. Tomato sauces, check. Cheesy things, check. Even hard-to-pair ingredients—like artichokes or caper-lemon sauces or grilled eggplant—work well with grignolino.
Still, some producers see even more potential than just an everyday wine.
"It's difficult to have a large amount of grignolino. It's an anarchic grape," said Francesca Accornero, whose family's Accornero winery is pushing the boundaries of what grignolino can be. With its five hectares, Accornero has some of the oldest grignolino vineyards. Their Bricco del Bosco Vigne Vecchie bottling comes from 50-year-old vines, and spends 30 months in large barrels as well as another two years in bottles before release. This is grignolino having its Barolo moment. "Grignolino has many faces," Accornero said. "It can be very easy drinking and also a very complex wine."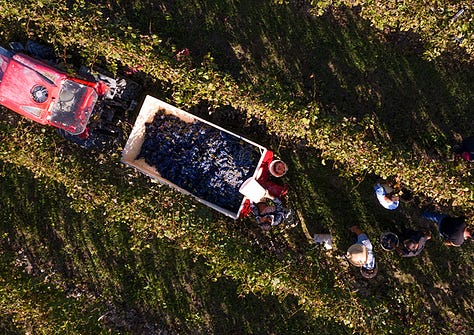 In 2015, an association of grignolino producers called Monferace was formed, with the aim of elevating the grape's reputation. Grignolino that ages at least 40 months, with at least 24 months in barrel, can be called Monferace (the ancient name of Monferrato).
"Some producers always believed in grignolino, but others forgot about it. We want it to be the representative grape of Monferrato. Grignolino is sort of the variety we are betting on most," said Francesca Arditi of Cinque Quinti in Cella Monte. (Cinque Quinti is difficult to find in the U.S., but it's a lovely place to visit, and it's Solista bottling is worth seeking).
Though I was focused on grignolino, I still didn't want to overlook Monferrato's other native red grapes. Almost every producer grew barbera, for instance. I also tried a surprising amount of freisa, which perhaps has even a worse reputation in Italy than grignolino. Freisa is a close relative of nebbiolo and its name comes from the Latin word for strawberry.
"With freisa, I am a bit more pessimistic," said Pietro Arditi, with a laugh. "If people in Italy know Freisa, they think it's something sweet." It's often made fruity and fizzy, and there's a classic Piedmont treat of sliced peaches in freisa. All the same, Cantine Valpane's Canone Inverso 2018 Monferrato Freisa, aged in steel tank, is an incredibly delicious wine. (I found some older vintages here and here).
I also really liked Summer Wolff's GioGio, made with freisa aged in cement tank, and will be seeking it out ($29).
Finally, no wine trip is complete without tasting something brand-new-to-me. This time, it was Fabrizio Iuli's La Rina, made from the super obscure Piedmont grape, slarina, a gamay-like, aromatic, light red that's a perfectly chillable. Another one I will be seeking out ($24).
Slarina was actually illegal to grow for some time during the 20th century, and nearly went extinct, until growers like Iuli brought it back from oblivion. For a rare grapes nerd like me, it was like catnip.
---
Grignolino: Easier To Find Than You Think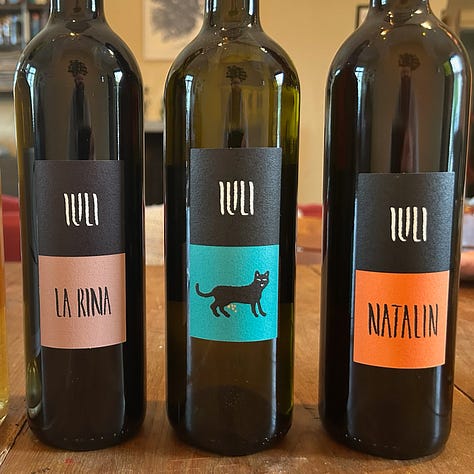 One of my favorites, and a great value. Though you won't find the grape or vintage on the label, this wine is made from 100 percent grignolino. Light ruby, with a savory, earthy nose and flavors of black cherry and blackberry, and lively, elegant tannins.
Complex, meaty grignolino, that's both big and light on its feet at the same time. Bursting with blueberry and blood orange and balanced by peppery and savory elements.
Lovely and drinkable, with gentle, firm tannins and swirling notes of rose, red fruit, and attractive dark notes of pepper and asphalt. Good value.
An ambitious grignolino from 50-year-old vines, aged 30 month in tonneau and another two years in bottle. Worth seeking out to see the grape's potential.
Lovely grignolino from a biodynamic producer I tasted at dinner in Torino. Fresh with therries, berries, pepper, and spice, and a lively tannic backbone.
The producers themselves say of their grignolino: "odd wine, difficult wine, less lucrative but deeply loved." This is a darker, fruitier style of the grape, with more black cherry, blackberry, plum, but still with a dry, stony finish.
This grignolino comes from the sandy slopes of Roero and not Monferrato, but it still a classic expression.
Pale crimson in color, with nebbiolo-like notes of cherry, rose, herb, and pepper. On the palate, it's fresh and vibrant, but with great underlying structure and earthiness. Excellent value.
Pale ruby in color and also very nebbiolo-like. Here, the fresh cherry and berry notes take a back seat to the darker, earthier notes. Attractive tannins and a long mineral finish.
Light ruby in color, with savory, floral nose and a palate that's surprisingly expansive, with flavors of cherry, herb, and a dry, stony finish.
Nose full of fresh herbs, cut flowers, warm citrus, and hints of amaro. Bright and fruity on the palate—fresh cherry, underripe berry—that's enveloped by a swirl of peppery and savory notes.
---
Related Italian Wine Content