The Mystery of Nebbiolo de Baja
Is Valle de Guadalupe's signature grape the same as that of Italy's famed Barolo? Maybe, maybe not. Also, a practical travel guide to the region.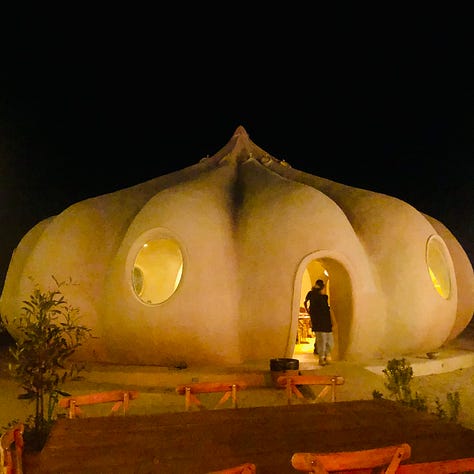 First things first, on this December day, let's picture you drinking wine in sunny Baja. As I mentioned here last week and in my recent feature for San Diego Magazine, I absolutely loved my visit to Valle de Guadalupe wine region in Baja this fall.
If you've never been, I strongly recommend that you make a wine and food journey to this part of Mexico. Valle de Guadalupe stretches northeast from the Baja coast, near Ensenada, less than two hours' drive from San Diego. It's a perfect two-to-three day trip. In fact, I'm such a fan of Valle de Guadalupe that I am going to invert the typical travel story and begin with my If You Go material.
Taste: If you have two to three days, prioritize these wineries: Bruma, Casa Magoni, Madera 5, Solar Fortún, Bodegas Henri Lurton, Lechuza, and Viñas de le Erre. Also, check out Baja Divina (right next to Finca Altozano) a wine shop with a good selection of smaller production wines curated by sommelier Lauren Plascencia.
Drink: Have you ever sipped natural wine in a bar shaped like a head of garlic? Well, you can and you should at a wine bar called Bloodlust.
Eat: Seafood fresh from the nearby coast is generally a can't-miss in Valle de Guadalupe. Dinner at Fauna, especially outside overlooking the vineyard, is a must-do. Chef David Castro Hussong's menu is always changing, but I had a wonderful meal of abalone, cactus-quinoa salad, scallops in squid ink, and lamb. At Javier Plascencia's decade-old standout Finca Altozano, there was a fabulous lunch of bluefin tosada and lamb birria. Wineries such as Casa Magoni and Solar Fortún are nice spots for casual al fresco lunches. I particularly enjoyed the marlin tacos and salpicón de pulpo while tasting wines at Solar Fortún.
Stay: If you can afford it, stay at Bruma winery's exclusive and beautiful Casa 8. Even more exclusive is the six-room Hotel Partana or La Villa del Valle. If you want a budget option, I enjoyed Casa Entrevez for a fraction the price.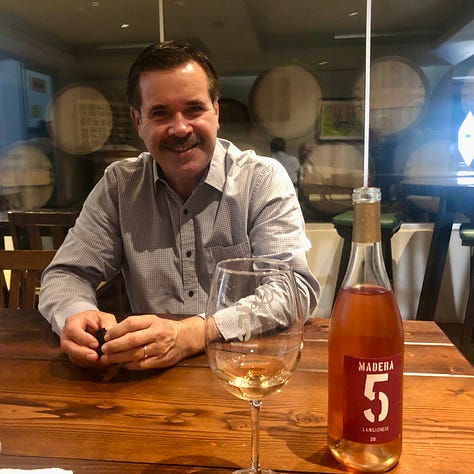 ---
The Strange Story of Mexican Nebbiolo
But what about the wines, right? I talked a bit about them last week, recommending six bottles from a wide variety of grapes: tempranillo, grenache, syrah, mourvèdre, chenin blanc, viognier, and fiano. Plenty of wineries are also growing popular varieties such as cabernet sauvignon, chardonnay, and sauvignon blanc. You can regularly find a dozen or more varieties at various wineries.
"It's a new region, so we're still learning what's best," said Nicolas Lurton, of the famed family in Bordeaux, who's now winemaker at Bodegas Henri Lurton, their Baja estate. "It's fun. More fun than working in a French winery where everyone knows everything already."
This sort of free-for-all is always an issue for up-and-coming wine regions, especially in North America. I've seen this challenge in places like the Finger Lakes, where I often want to throw up my hands and say, "Stick with the riesling and the cabernet franc!"
But in Baja, it's a particular concern because of the drought conditions and the heat. Some believe Rhône varieties like mourvèdre or grenache do best. Others veer toward Spanish varieties like tempranillo. Others still insist on Italian grapes like sangiovese, barbera, montepulciano, or aglianico. (I tasted a lot of very nice mourvèdre, so that gets my vote).
"We are working with so many grapes here, it's crazy. But there's there not been that much investigation into it," said Victor Segura, winemaker at Madera 5. "Sooner or later, we need to decide which grapes do better here."
But how do you convince wine tourists to switch to unfamiliar grapes like mourvèdre, falanghina, fiano, vermentino, or aglianico? "Maybe we need to start blending to introduce the grapes. Some chardonnay with 20 percent vermentino, so people start hearing the name vermentino," said Camillo Magoni, the 82-year-old winemaker of Casa Magoni, who's worked 58 harvests in Baja. "It could take another ten years, but we need to start."
"Climate is forcing us to choose," said Magoni, who experiments with growing 120 varieties. "If you ask me, 'Which one is the future?' I don't know," he said. "We need to find a grape that's an icon, like malbec in Argentina."
Right now, the signature grape is nebbiolo. That's what the large legacy producer L.A. Cetto has always promoted as Baja's variety, and nebbiolo has been here for at least 70 years. Camillo Magoni, in fact, came to Baja in 1962 after studying in Piedmont and then working with nebbiolo at Nino Negri in Valtellina. He's been working with nebbiolo ever since.
Now, this nebbiolo is quite different than the nebbiolo we immediately recognize in wines like Barolo, Barbaresco, or Langhe Nebbiolo. The nebbiolo in Baja is much darker, less tannic, and often has an atypical briny, saline character. Maybe this is the climate, or perhaps the result of growing nebbiolo in a drought, where the quality of water that remains on the valley's ancient ocean-bed soil becomes saltier and poorer in quality.
Some winemakers are skeptical that it's even the same variety. "Some people say that it's dolcetto or lambrusco," said Lulu Martinez, the winemaker at Bruma, who previously worked 16 years in Bordeaux. "All I can say is I know it's not nebbiolo. I love it, but it's not nebbiolo."
Magoni has trademarked the name Nebbiolo de Baja, presumably in case some DNA testing reveals that the grape they're growing is not actually nebbiolo. There is a long tradition in wine of grapes being called by confusing local synonyms, especially in Italy. Sangiovese is variously called brunello, morellino, prugnolo gentile, and two dozen other names. Nebbiolo is even called chiavanesca in Lombardia's Valtellina.
When I visited Casa Magoni in Valle de Guadalupe, we did a tasting of two different nebbiolos. One was from the typical Nebbiolo de Baja variety of the region and the other made from Clone 34, a nebbiolo sourced from Italy. The difference was stark. Clone 34 had the light color and finesse, along with the rose and cherry notes, of a young nebbiolo from Piedmont. The Nebbiolo de Baja was darker, more muscular, more brooding. I enjoyed both a great deal.
This type of grape identity crisis happens more often than you'd think. The most famous case is in Chile, where they discovered that the strange merlot they were growing was actually carménère.
A similar discovery happened in Italy's Veneto. I once worked with Inama, who made wonderful red wines in the Colli Berici with a grape that was once thought to be cabernet franc, but was actually carménère. The Inama family embraced carménère as a unique signature grape of Colli Berici. But not all of the other producers were so happy about this revelation. Many were carménère deniers who insisted on bottling their wines as Cabernet del Veneto.
For now, the nebbiolo of Baja will remain a mystery.
---
Related Nebbiolo Content on Everyday Drinking