Discover more from EVERYDAY DRINKING
A wide world of wine, spirits, travel, and culture from the author of Godforsaken Grapes and Boozehound.
When spreading the good word on good wine, it's often one step forward and two steps back. Case in point: In this newsletter, I'm going to tell you about a wonderful tasting I attended a couple of weeks ago, in which I sampled albariño wines from both Old and New World: Spain, Portugal, California, the Finger Lakes. This "Festo do Albariño" took place at a lovely wine bar called Microclimate, in a lovely town called Geneva, New York, at the top of Seneca Lake.
It's perhaps an understatement to say it warmed my heart to see everyday Americans flocking to a wine bar on a summer Sunday evening to taste eight examples of an indigenous Galician variety, accompanied by tapas. It suggested to me that maybe we'd turned a corner as a wine culture, that maybe we'd reached a new level of mainstream wine knowledge and understanding.
Then, as I was preparing the publish this newsletter today, I did a quick search on Getty Images for "albariño." This was my result:
Oh, well. We keep moving forward.
In any case, albariño has been getting some positive attention this summer. In the New York Times, critic Eric Asimov recently claimed that Rias Baixas, the grape's spiritual homeland, is at an "inflection point," with too many big companies and cooperatives making cheap and easy commodity wines. Albariño, like so many grapes worldwide, has become a victim of its own success.
For at least two decades, albariño has mostly been thought of as a light-bodied, crisp, zesty—but ultimately forgettable—wine. "Yet, as is so often the case with wine," Asimov writes, "ideas about a grape's potential for complexity and aging become fixed not because of a grape's actual limits but because few people have tried make anything more of it."
Fortunately, a number of top producers in Galicia are making wines that show albariño's complexity and ageability, demonstrating that it can indeed be a world-class white wine. The very best albariño is still zesty, crisp, and tart like the cheaper examples, but also shows more complex herbal, floral, and mineral elements, finishing with a cool salinity. Albariño should be an ideal pairing with shellfish, tinned fish, and Pulpo a la Gallega, the classic Galician octopus dish.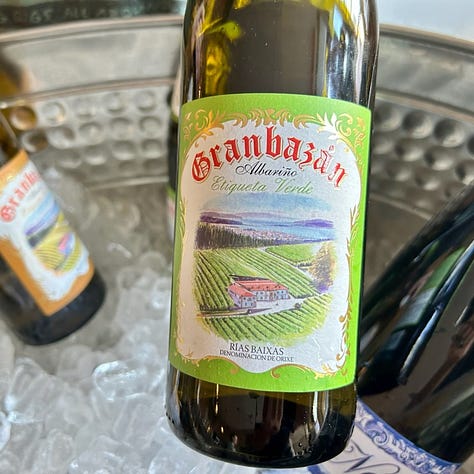 At Microclimate's Festo do Albariño, they poured wines from a couple of those benchmark Rias Baixas producers, Granbazán and Do Ferreiro, both in the Val do Salnés subregion, considered something like albariño's grand cru. While people have been growing albariño in Galicia for centuries (likely since the time of its Celtic settlers) the Rias Baixas denomination has only existed since 1988.
One of the true markers of a world-class grape, however, is whether winemakers in other regions, far from the origin, try to grow it. To that end, Microclimate's owners, Ellie Dolan and Anthony Do, put together a great tasting with neighboring Finger Lakes producer Billsboro Winery.
A fact of wine in the Finger Lakes is that people grow so many different grapes beyond the riesling the region is famous for: grüner veltliner; gewürztraminer; muscat; pinot gris; chardonnay; various hybrids. For me, this is a mixed blessing. I believe the Finger Lakes, at this stage in its evolution would do well to focus a bit more, but experimentation is obviously always good.
Billsboro produces the only albariño here, since 2011, from a single one-acre plot in Sawmill Creek Vineyard, one of the Finger Lakes' prime vineyards. The current 2022 vintage is ripe, fruity, full of stone fruit, balanced by herbs, but more full-bodied than what you'd usually find in Galicia. But Billsboro's 2018 albariño is much more "varietally correct," as a somms might say, with more understated herbal and floral notes, along with the citrus zest, and hints of saline minerality. It's in limited quantities, and you'd probably have to buy it at the winery, but I'd seek out the 2018.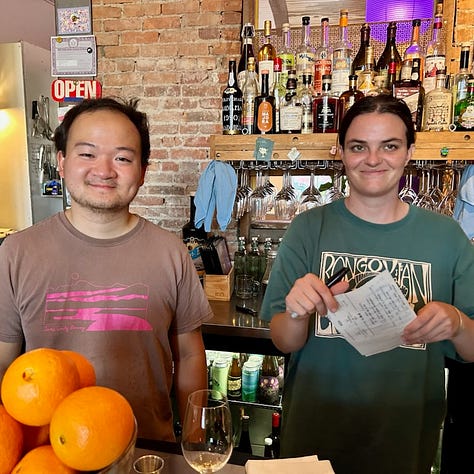 Two other American albariños were also quite interesting: one from Fjord Vineyards in the Hudson Valley, and another from Dunites in San Luis Obispo, California. The California albariño is an example of what happens when the grape fermented in French oak and spends 8 months on the lees.
For now, albariño still works best on the Iberian peninsula. In Portugal, albariño is called alvarinho—mostly grown in the northern Portuguese region of Minho, and often found in blends of vinho verde. At Microclimate, the Portuguese example Vinhos del Atlantico 'Nortico' 2022, a solid $15 bottle that's crisp, pithy, and floral, with tart citrus and a clean, saline finish. I could see this pairing well with a sampling tinned fish.
But the best examples, in the end, are from Rias Baixas. Two bottlings from Granbazán were poured, the standard "green label" as well as the iconic "amber label"— which is made only from free-run juice. Do Ferreiro was also represented by two bottlings, its classic 2022 albariño, which could stand in as the platonic ideal of albariño.
Finally, there was another of Spain's iconic white wines, Do Ferreiro Cepas Vellas 2010, produced from a one-hectare plot that was planted in 1785. A taste of the Cepas Vellas would quiet anyone who thinks albariño cannot make world-class wine. It is certainly more than one step forward.
---
Six Picks: All About Albariño
The green label from this benchmark producer is a great value, a classic albariño with notes of tangerine, green apple, lime zest, cut grass, talc, and a cool saline finish.
Made with free-run juice, aged on the lees for five months, riper and more complex than the green label, deep warm citrus, herbal and floral, with underlying minerality. Well worth the bump in price.
Perhaps the platonic ideal of an albariño. Flavors and aromas of grapefruit, fresh-cut flowers, citrus zest, and a classic salty finish.
Set aside your perceptions of albariño. Rich, complex, nutty, waxy, leesy, even a hint of sherry vibes on this one. Worth seeking out. The 2010 vintage I tasted is not cheap (I found it for $125), but I saw the 2013 for $45 and the current release is around $70.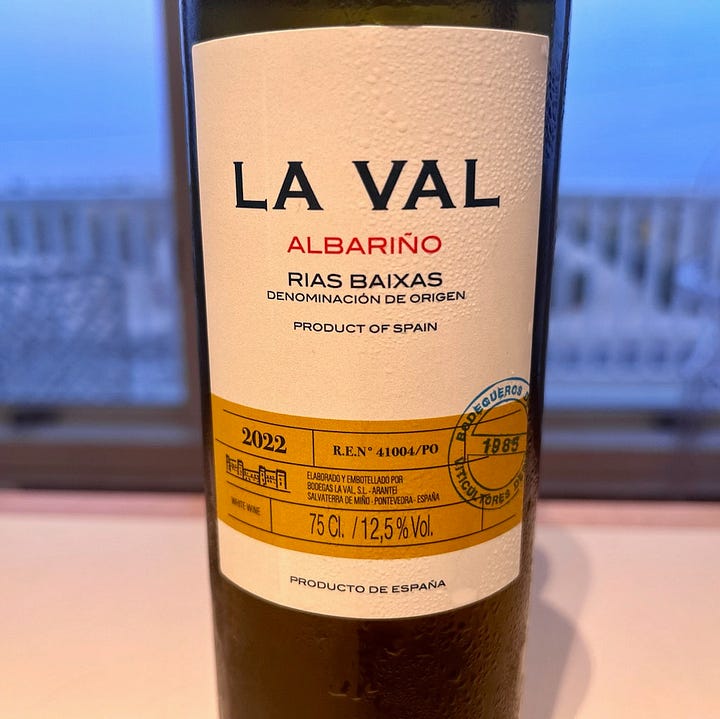 My go-to value albariño. Lovely nose of fresh-cut flowers, tarragon, and lime zest, with tangerine and tart key lime on the palate, and a pleasant smoky undertone through the finish. (I tasted this separate from the Microclimate event).
Another good value. A bit more tropical and full-bodied, leaning in a chardonnay direction with ripe pineapple and grapefruit, but it's balanced by juicy acidity. (I tasted this separate from the Microclimate event).
---
Related Content