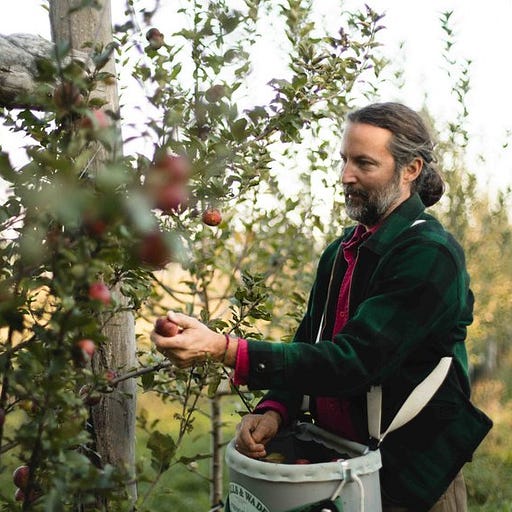 Aug 10, 2021
Why the Finger Lakes is the Best Cider Region in America
A conversation with cidermaker Steve Selin of South Hill Cider
Join host Jason Wilson (author of Boozehound and Godforsaken Grapes) as he explores the wide world of wine and spirits, speaking, sipping, and storytelling with experts and aficionados from around the globe.
I realize there's still over a month of summer left — and I don't want to rush things — but as we move later into August, my thoughts always turn towards fall, my favorite season. My love of autumn is likely a major reason why I ended up writing a book about cider a couple years ago. Certainly the early fall is harvest time for wine grapes all over the northern hemisphere. But here in the American northeast, as the apples ripen and the days get colder, it also becomes unmistakably cider season.
This October, I'm excited that Travel + Leisure will be publishing my travel feature on the cider scene in New York's Finger Lakes, which I consider to be the finest, most evolved cider region in the U.S. If you haven't visited the Finger Lakes yet — especially if you live withing driving distance — do yourself a favor and go this fall. I'll also soon be publishing an in-depth report on Finger Lakes wine in the newsletter in a few weeks.
There are certainly great American ciders from Vermont, Oregon, Michigan, and plenty of other places. But Finger Lakes cider is unique: consistently drier, with more acidity, higher alcohol by volume, and generally more "wine-like" than most others. Look for producers such as Eve's Cidery, Redbyrd, Blackduck, Open Spaces, Black Diamond, and Finger Lakes Cider House. (In some cases, you'll have order directly from their website. Or visit them in person.)
As I was doing my reporting for the T+L feature, I recorded interviews with a bunch of Finger Lakes cidermakers, a few of which I will be rolling out during the late summer and into the fall — including Autumn Stoscheck and Ezra Sherman of Eve's and Eric Shatt of Redbyrd.
The first of these is a conversation with Steve Selin of South Hill Cider, near Ithaca. On a very windy day, Libby Parks (aka Cider Qween) and I spoke with Steve about what makes Finger Lakes cider special, why apple varieties matter, and why cider faces more challenges than wine. "The only difference between what people call wine and what we call cider is the fruit that it's made from," Selin says.
For more cider chat, be sure to catch episode 3 from the first season of our Everyday Drinking podcast. By the way, we will return with Season 2 sometime before the end of the year. Stay tuned!