Discover more from EVERYDAY DRINKING
A wide world of wine, spirits, travel, and culture from the author of Godforsaken Grapes and Boozehound.
My Barcelona Wine Bar Crawl
How to avoid the crowds and find great new-wave wine in the beloved city. Along with some recommended bottles from Catalonia.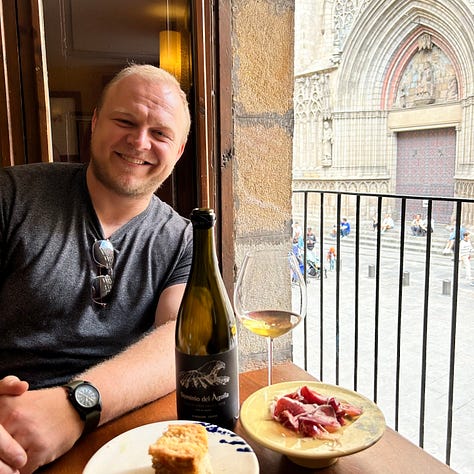 If you follow me, then you probably know that I love Barcelona. My first visit was in 1999, and things have changed a lot in 24 years. You've likely heard about Barcelona's "over-tourism" problems, and it's true that, during many times of year, the crowds of visitors are crazy—more than ten million each year invade a city of a little over 1.5 million. (Right now, the city is trying to limit the number of cruise ships, which have become a real problem). However, I find it relatively easy to avoid the tourist hordes, even in the busy months. You just have to know where to go.
To that end, I've published a feature about my favorite Barcelona wine bars in the November issue of Wine Enthusiast. In that article, besides the where-to-go service info, I use my wine-bar crawl as a way to trace the map of Spain's new-wave wines. We're seeing more and more of these "new Spanish" bottles on menus across the U.S. and the trend is only going to continue. (Please read my piece in Wine Enthusiast).
As for wine bars, I recommend spots like Bar Brutal, L'Anima del Vi, Bar Salvatge, La Vinya del Senor, Món Vinic, and Bar Mut. In this piece, I focus more on wine. And so cocktail bars such as Caribbean Club or 14 De La Rosa, or favorite restaurants such as Gresca, Bar Cañete, or Berbena will have to wait until I do a full travel guide in the next few months. As for Barcelona's vermuterias—its famed vermouth bars like Morro Fi or Cala del Vermut or Quimet & Quimet—there is an article forthcoming.
While I skewed toward places where one might find more natural-leaning wines, I also talk about old classic spots in Barcelona, too, including a few swigs from the traditional porrón:
Yet with all the new energy, you can still find pockets of tradition. On one of my last days in town, I meet Nika Shevela at an old-school spot called Gelida that's been in Eixample since 1946. Locals crowd into a dining room lined with yellowing posters of the Barcelona soccer club and ringed by wine barrels. Over a hearty lunch, Nika and I drink Vi Ranci—Catalan's traditional aged, oxidized wines—out of the traditional porrón. As we pour the streaming wine into our mouths from above our heads, Nika, who grew up in the city, professes some slight embarrassment. "Barcelona is a place that's positioned itself as an international city for so long that rediscovering tradition feels touristic," she says. All the same, she tilts the porrón back in her mouth for a big swig. (Porrón footage below.)
Many of the most exciting bottles I tasted in Barcelona, of course, come from Catalonia. I've written before in Everyday Drinking about the rise of the Sparkling Wine Formerly Known as Cava, as well as the trend of Cava's main grape, xarel·lo, vinified as a still wine.
But there's much more to Catalan wines than sparkling or xarel·lo. There's so much happening in well-known appellations like Priorat and Monsant. And then there are up-and-coming regions such as Conca de Barberà and Terra Alta. Bottles from those two regions are what I'm recommending below.
---
A Trio of Terra Alta &
Conca de Barberà
Terra Alta and Conca de Barberà are lesser-known appellations in Tarragona province, where some of Catalonia's most exciting wines are coming from, particularly from natural-leaning producers like Oscar Navas, Cellar Frisach, and Mendall.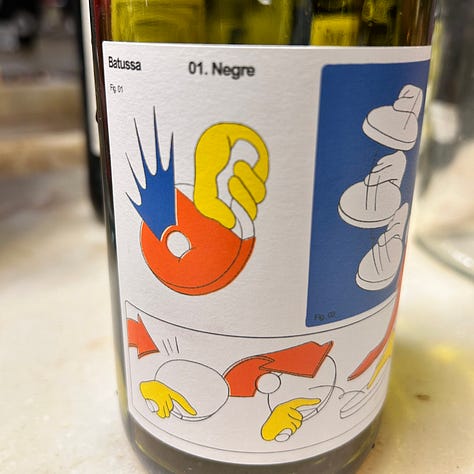 Oscar Navas makes one of the most popular bottles in Barcelona's natural-wine scene. Fresh and vibrant, made mostly with trepat, an obscure Catalan variety.
A bright and energetic blend of carignan and garnacha from one of Terra Alta's most exciting producers. I can't find it in the U.S., but Cellar Frisach's L'Anit de Frisach is a primal, rugged carignan that is emblematic of the natural-leaning, lighter-bodied red wine popping up all over Spain right now.
Skin contact from macabeo and garnacha blanca. Laureano Serres is a legend of the Catalan wine scene, with six hectares of vineyards at more than 500 meters above sea level.