A Basque Country Cider Tour
Sidra season in Spain is just around the corner. Here are my travel tips.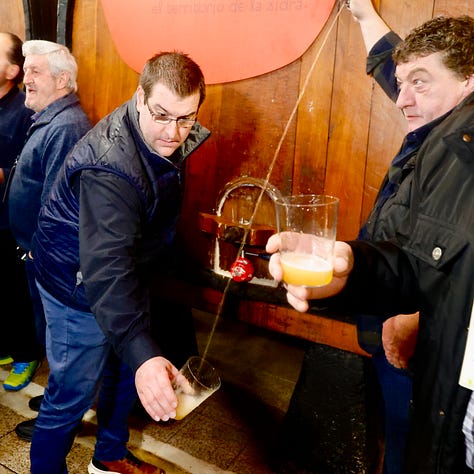 No one really tells you what to do when you first arrive at a sagardotegi, or traditional Basque cider house, especially if you don't speak Basque. You're simply given a glass, led to one of the long wooden tables in a vast room, and immediately served a plate of chorizo, followed by a cod omelet. It's left up to you to figure out how to get a drink.
My brother, Tyler, and I learned this on our first night in Astigarraga (15 minutes southeast of San Sebastián) which happens to be the cider capital of Spanish Basque Country. In this town of just under 6,000 people, there are an astonishing 19 cider houses. We were spending several days here in late January, at the start of the traditional cider season that runs through April. With Spanish-style ciders becoming more popular among American cider makers and cider enthusiasts, this is where you can see what they taste like at the source.
At Garziategi, a sagardotegi in a big stone barn on the outskirts of town, we learned that when a guy with a bucket yells "txotx!" (pronounced "CHOACH") that means he's about to open the tap on one of dozens of huge 13,000-liter barrels, shooting out a thin stream of cider. You're supposed to stand up from your meal, get in line, and hold your glass at just the right angle to catch a few fingers of cider from that hissing stream. You drink the small amount in your glass and then follow the cidermaker to the next barrel.
Keep reading with a 7-day free trial
Subscribe to EVERYDAY DRINKING to keep reading this post and get 7 days of free access to the full post archives.